| | |
| --- | --- |
| Product name | Laser Tattoo Removal Hair Removal Machine |
| Wavelength | 532nm / 1064nm /1320nm (755nm optional) |
| Energy | 1-2000mj |
| Spot size | 20mm*60mm |
| Frequency | 1-10 |
| Aiming beam | 650nm aiming beam |
| Screen | Big color touch screen |
| Voltage | AC 110V/220V,60Hz/50Hz |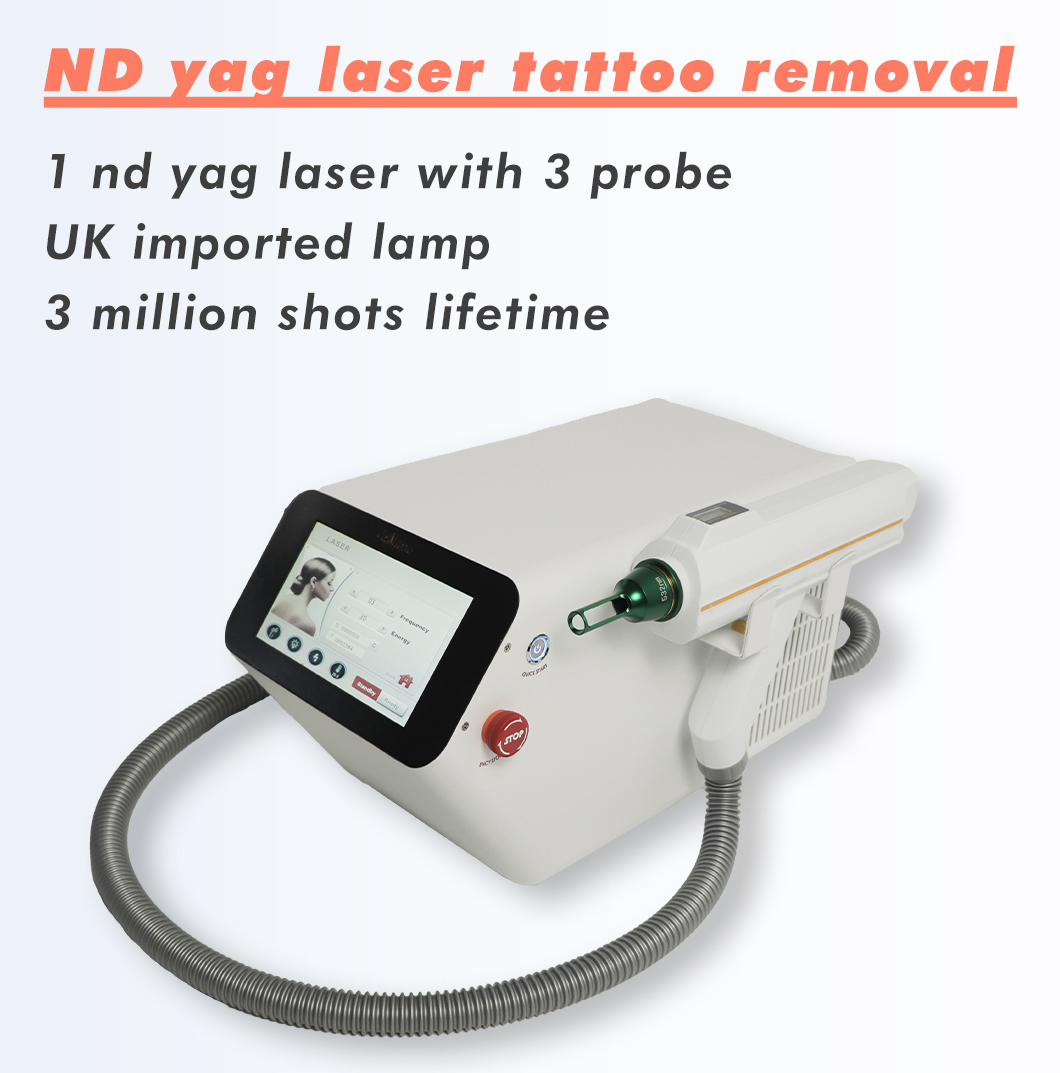 1.6inch big color touch screen more sensitive and friendly 2.ND yag laser handle with 532nm 1064nm and 1320nm probe (755nm probe optional) 3.UK imported lamp ensure handpiece continuous work longer time . 4.High quality Yellow bar ensure stable energy and more use lifetime 5.diameter 5 / 6 / 7 bar can be choosed , the bigger the diameter , the stronger the energy 6.One lamp one bar and one lamp two bar can be choosed 7.the dot from nd yag laser is uniform and it is very round . 8.there is counter on the handpiece , can get exact shots number easily 8.650 indicator light from handpiece ensure it is more accurate during the treatment . 9.1500W big power supply ensure machine stable energy output and long lifetime . 10.Germany imported water pump ensure best cooling , prolong the laser lifetime 11.Germany imported CPC water connector & Germany Harting Electronic connector, no leakage of water and electricity safe and reliable 12.multi languages supported,meet requirement of global market. 13.We can provide ODM/OEM service 14.High frequency:1-10 Hz is adjustable, fast treatment speed, save much time. 15.Aiming light helps to fix on target easily and save laser shots1. This machine is suitable for European , North America and South America safety standards . we can provide the TUV CE , ISO13485 and FDA certification . 2. We support different language screen software setting , special screen software research and development . 3. We can provide the machine spare parts sale and also exclusive machine spare parts research and development for customers . 4. Professional after sale service : We can provide you the professional after sales service and guide by video , conversation and in site . we also have the branch office in Germany . For after sale service maintain , it is more convenient in Europe .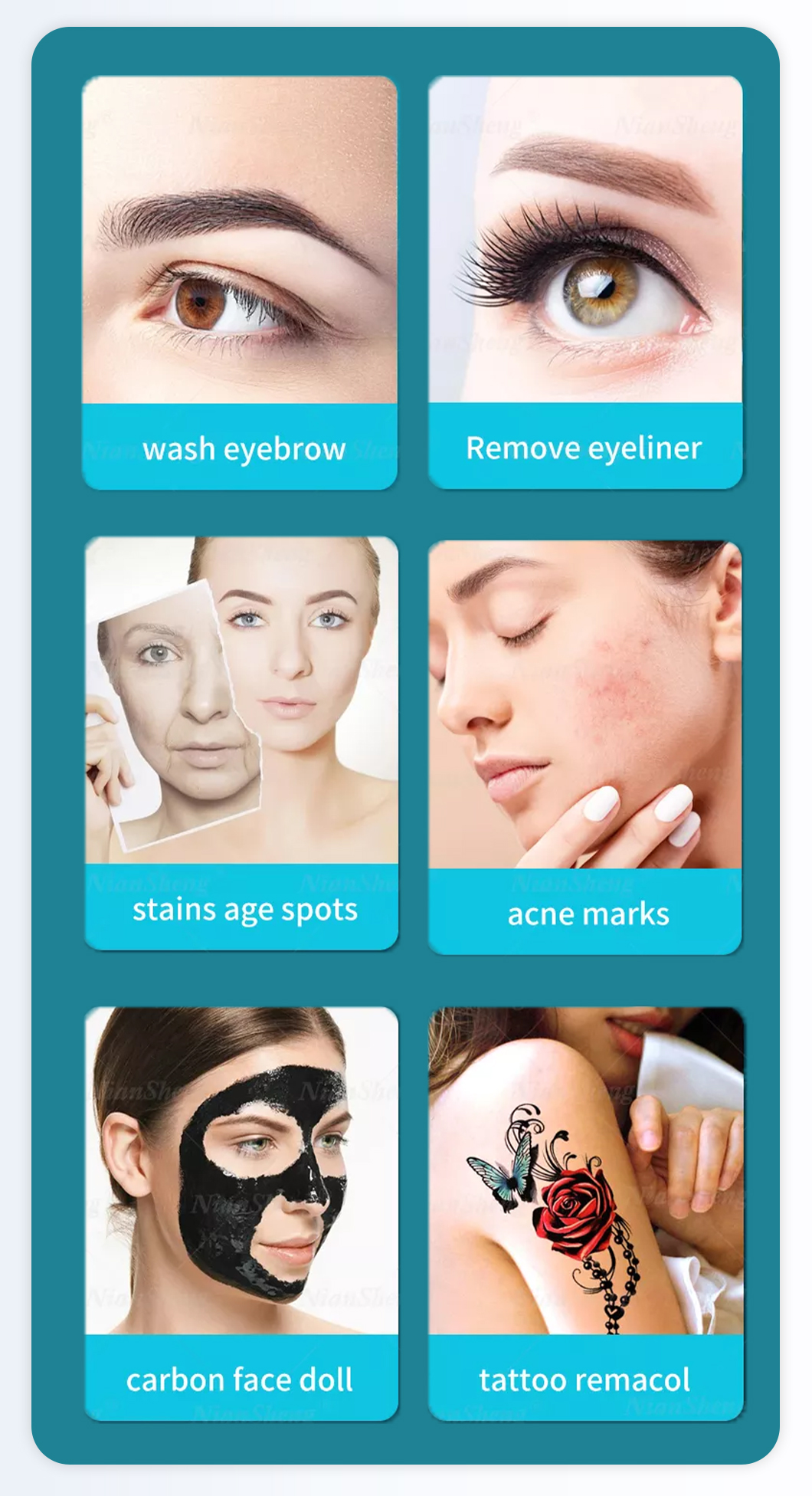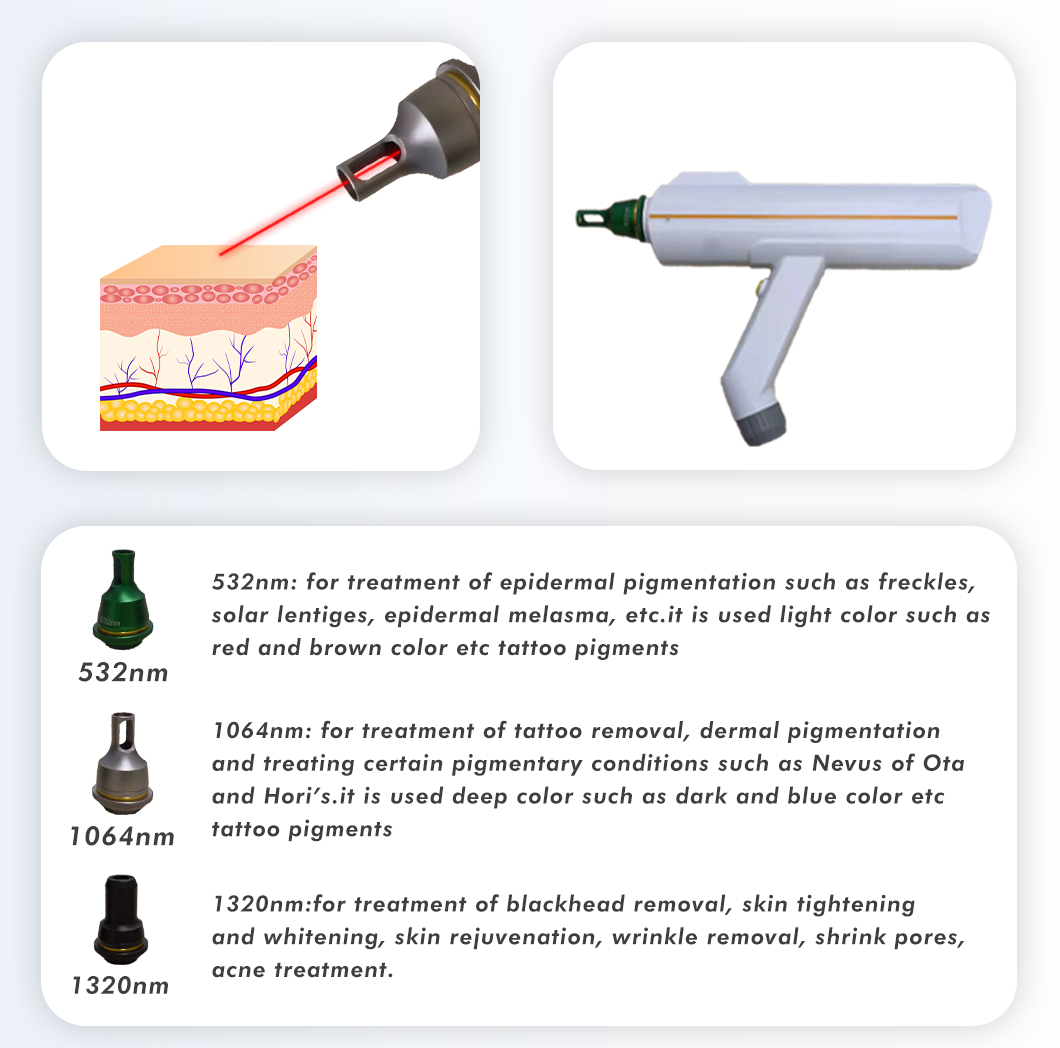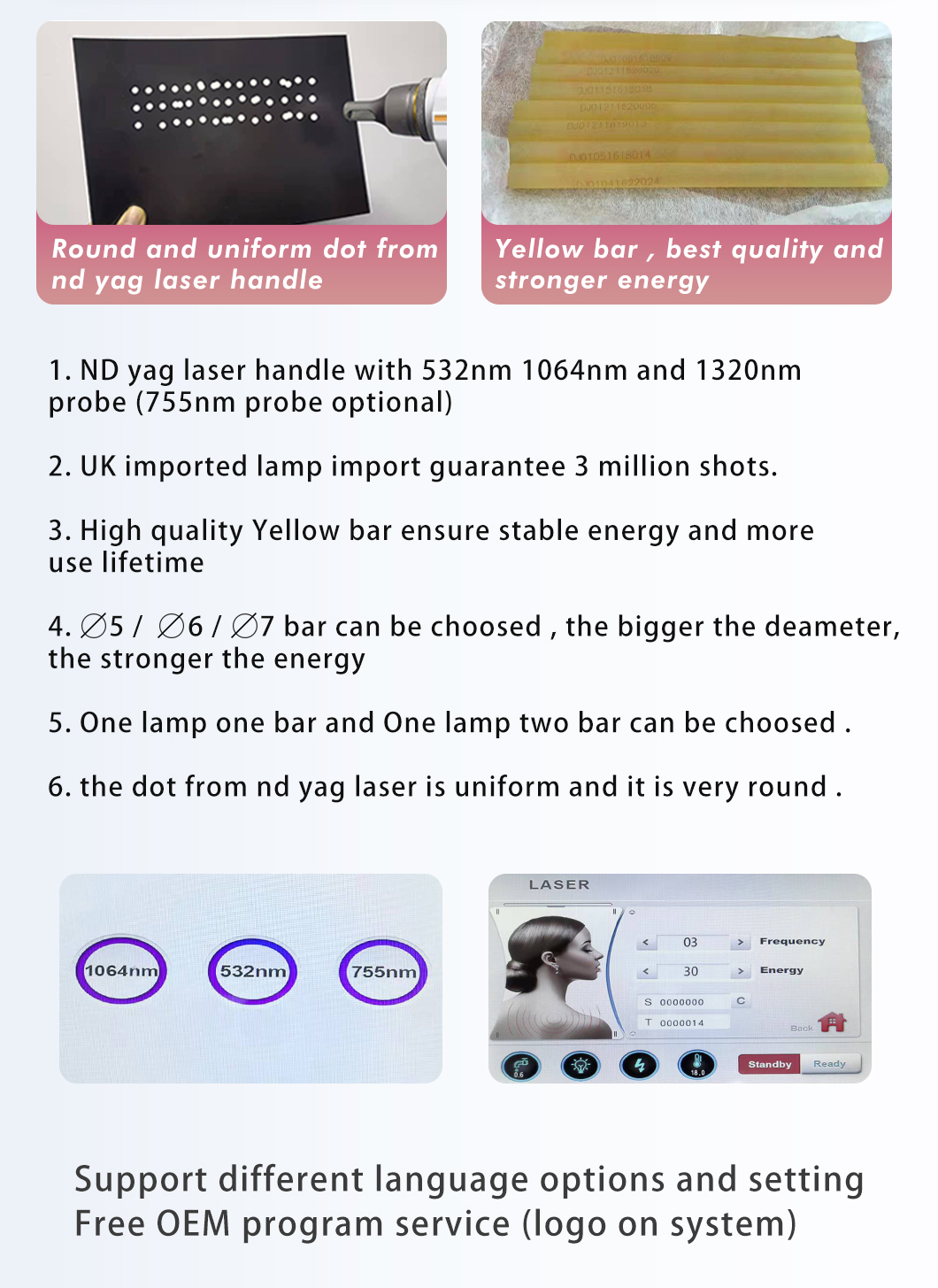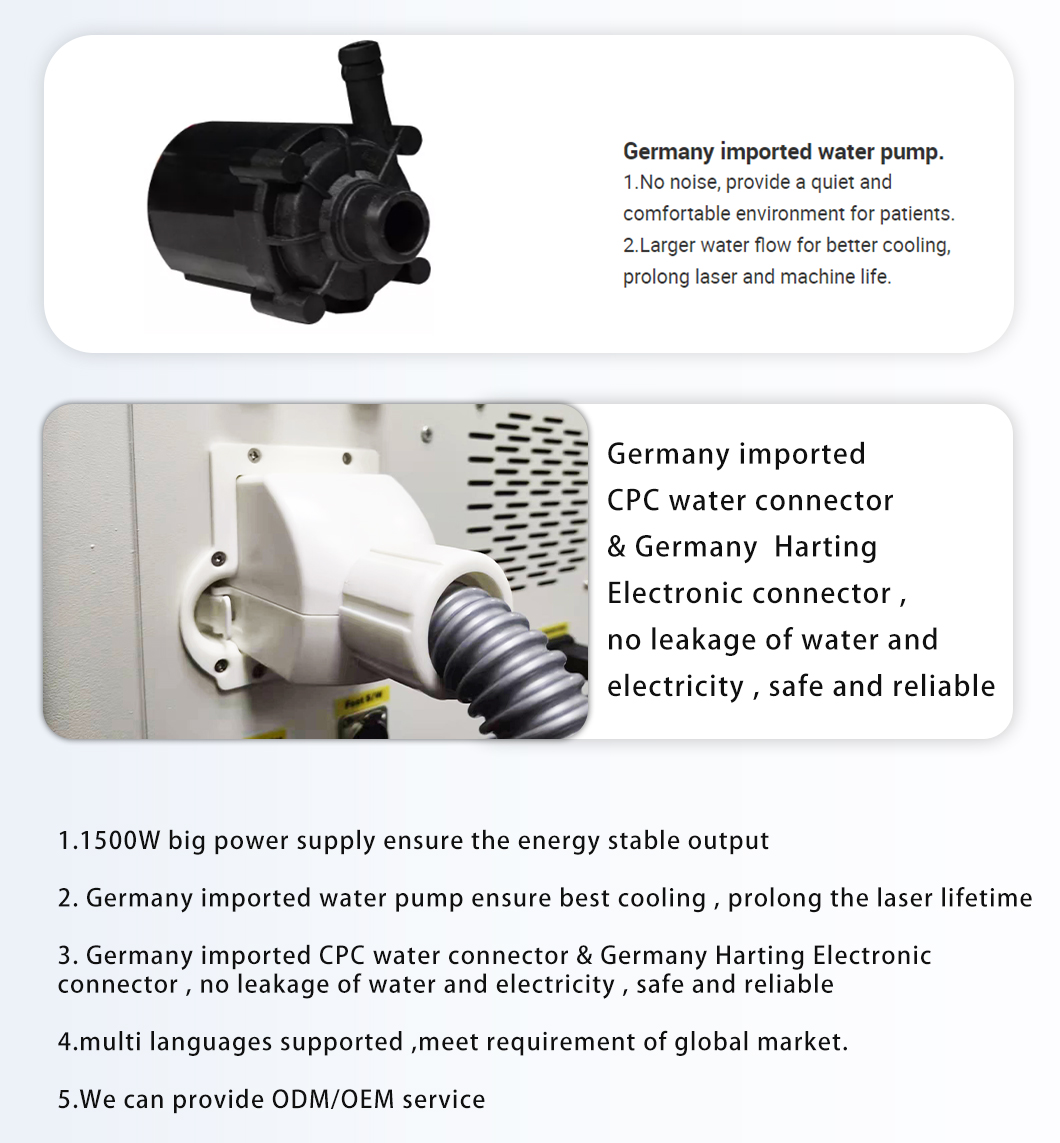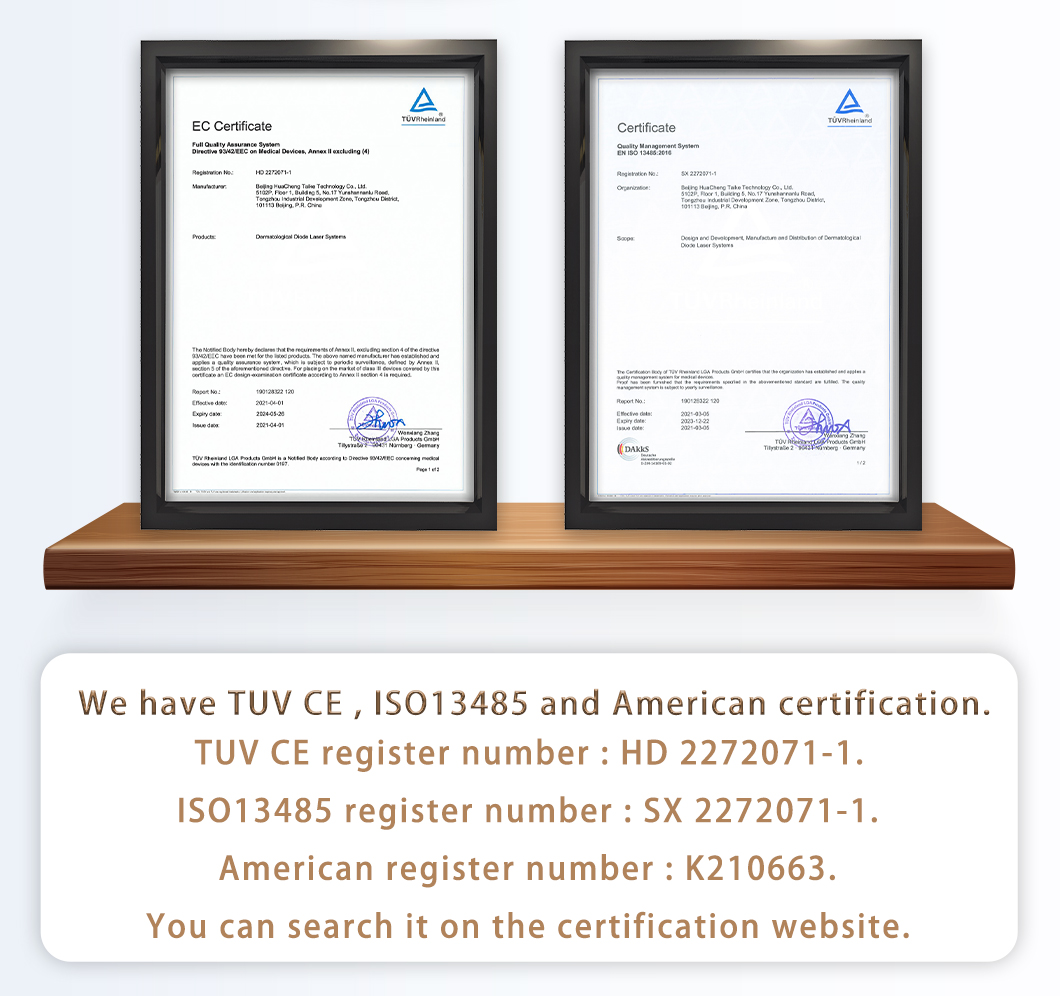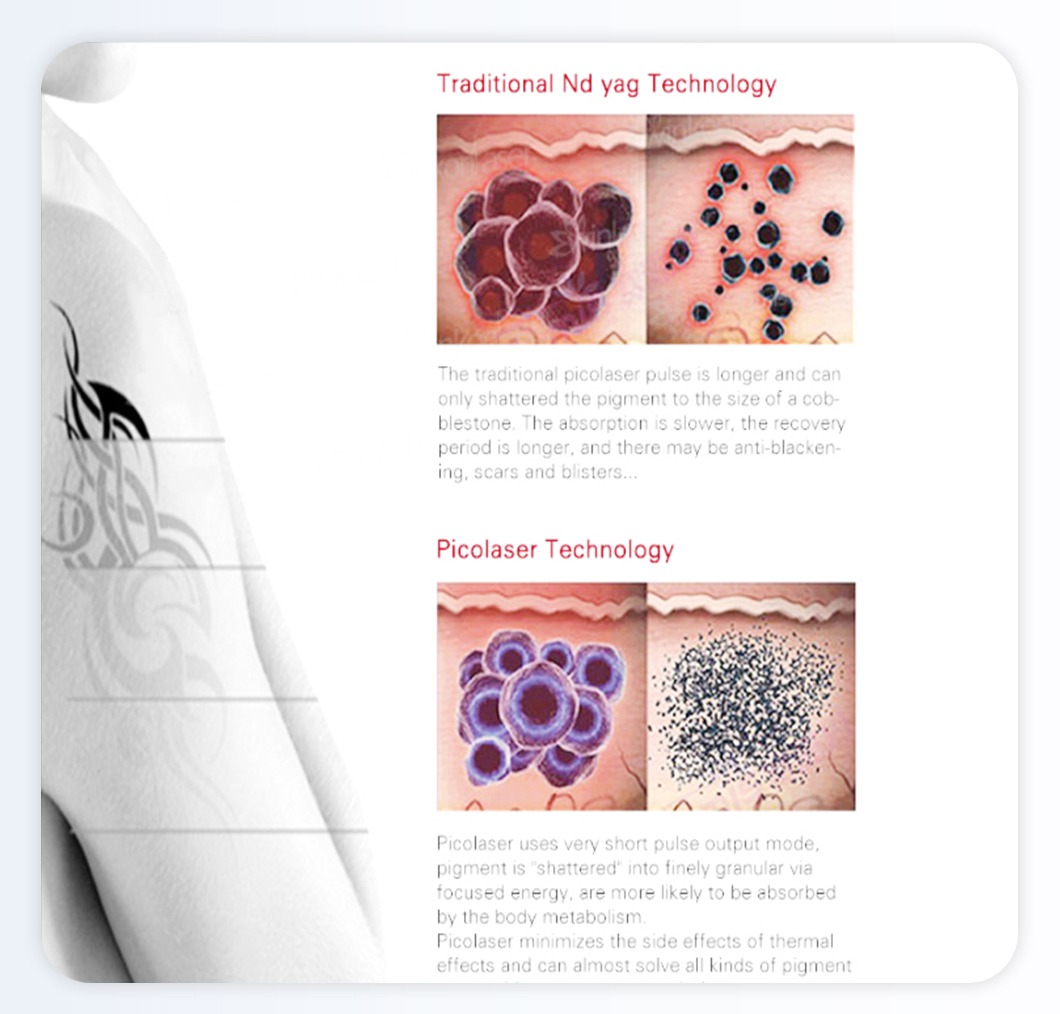 1.1064nm wavelength: get rid of freckles and yellow brown spot, eyebrow tattoo, failed eye line tattoo, tattoo, Birthmark and Nevus of Ota, pigmentation and age spot, nevus in black and blue, scarlet red, deep coffee and etc. deep color. 2.532nm wavelength: get rid of freckles, eyebrow tattoo, failed eye line tattoo, tattoo , lips line, pigment, telangiectasia in shallow red, brown and pink and etc. light color. 3.1320nm Professional for skin rejuvenation and face deep cleaning , blackhead removal, skin tightening and whitening, skin rejuvenation.Utilizing the explosive effect of the Nd: YAG laser, the laser permeate the epidermis into the dermis which includes amount of pigment mass. Since the laser pulses in nanosecond but with super high energy, the shot pigment mass swell quickly and breaks into small pieces, which will be eliminated through metabolic system. The energy of Q-switched Nd:YAG laser can be absorbed by pigment of target tissue like tattoo, speckle, birthmark and so on. The pigment will be fragmented so small that they can be metabolized by the lymphatic system or egested out of the body. Thus the tattoo or other pigmentations will be removed without damage to normal tissue. The treatment is safe and convenient without downtime or side effects.