| | |
| --- | --- |
| Product name | Laser Tattoo Removal Hair Removal Machine |
| Wavelength | 532nm / 1064nm /1320nm (755nm optional) |
| Energy | 1-2000mj |
| Spot size | 20mm*60mm |
| Frequency | 1-10 |
| Aiming beam | 650nm aiming beam |
| Screen | Big color touch screen |
| Voltage | AC 110V/220V,60Hz/50Hz |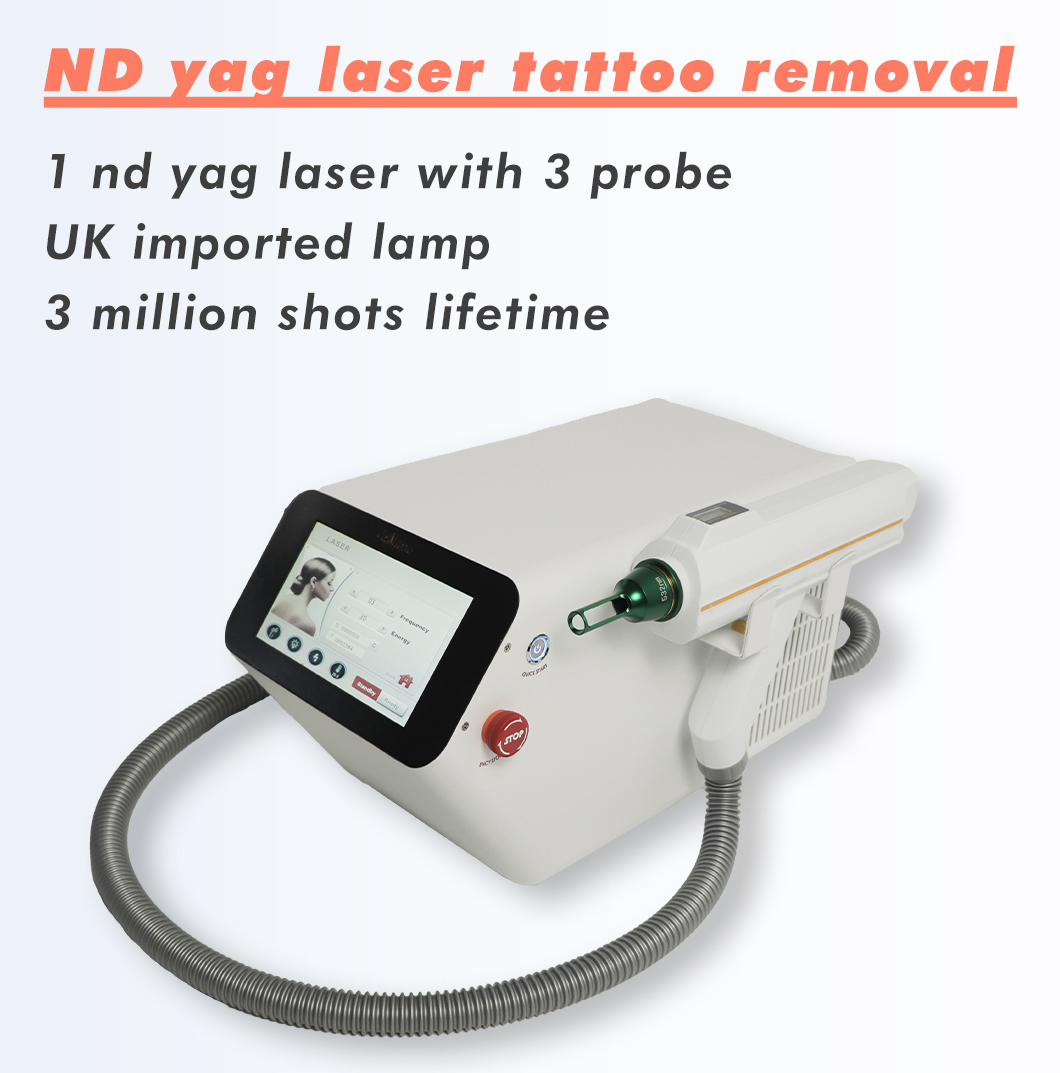 1.Exclusive Fashion handpiece design suitable for body mechanics , more humanised and no tired with longer time working 2.suitable for any color tottoo removal : 1064nm wavelength is for Black, ink, blue tattoo removal . 532nm wavelength is for red, coffee, brown and rest colors tattoo 3.safety : Painless, no side effect, No injury to skin; no risk of scarring during treatment 4.More accurate : With Aiming light from handpiece , it can focus on the treatment parts accurate , no injury for other normal skin . 5.Fast treatment : with 1-10HZ adjusted frequency , the treatment speed is more faster and save more time . 6.best cooling system: air+water+semiconductor cooling which ensure the machine work 24 hours without stop.Through testing technology, through the results of the validation Remove tattoo of clinical research and medical research community consensus: q-switched Nd: YAG laser is the best solution to remove unwanted tattoo. Decades of clinical research proved that the q-switched Nd: YAG laser in removing tattoos and other epidermal and dermal pigmentation treatment efficacy and safety.Cosmedplus of Q switch, flat-topped beam, variable spot size, and many other technical characteristics is favored by the medical profession. Cosmedplus laser represents the peak of the tattoo removal techniques.The following study shows the use of the high quality q-switched Nd: YAG technology may produce powerful results.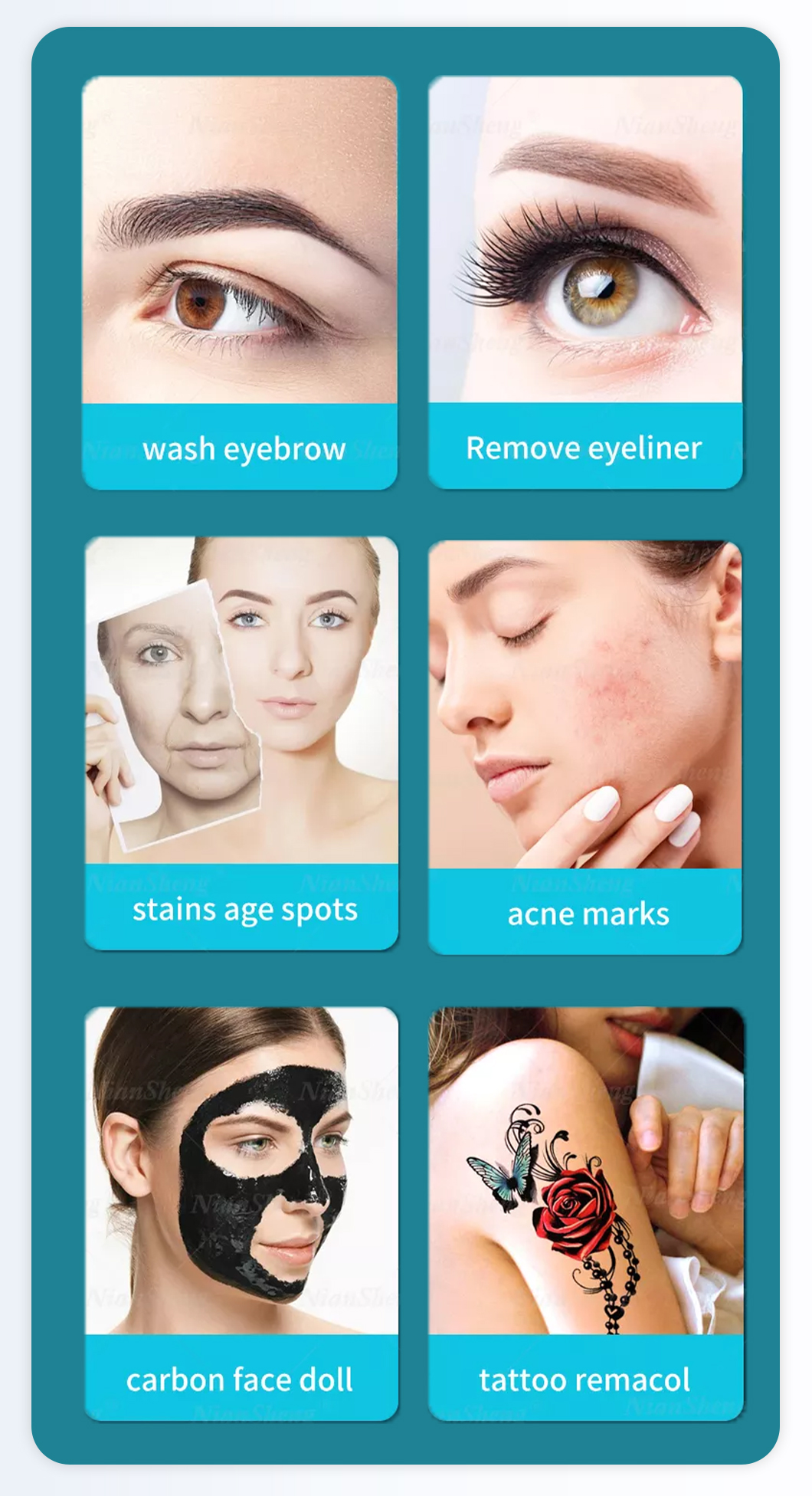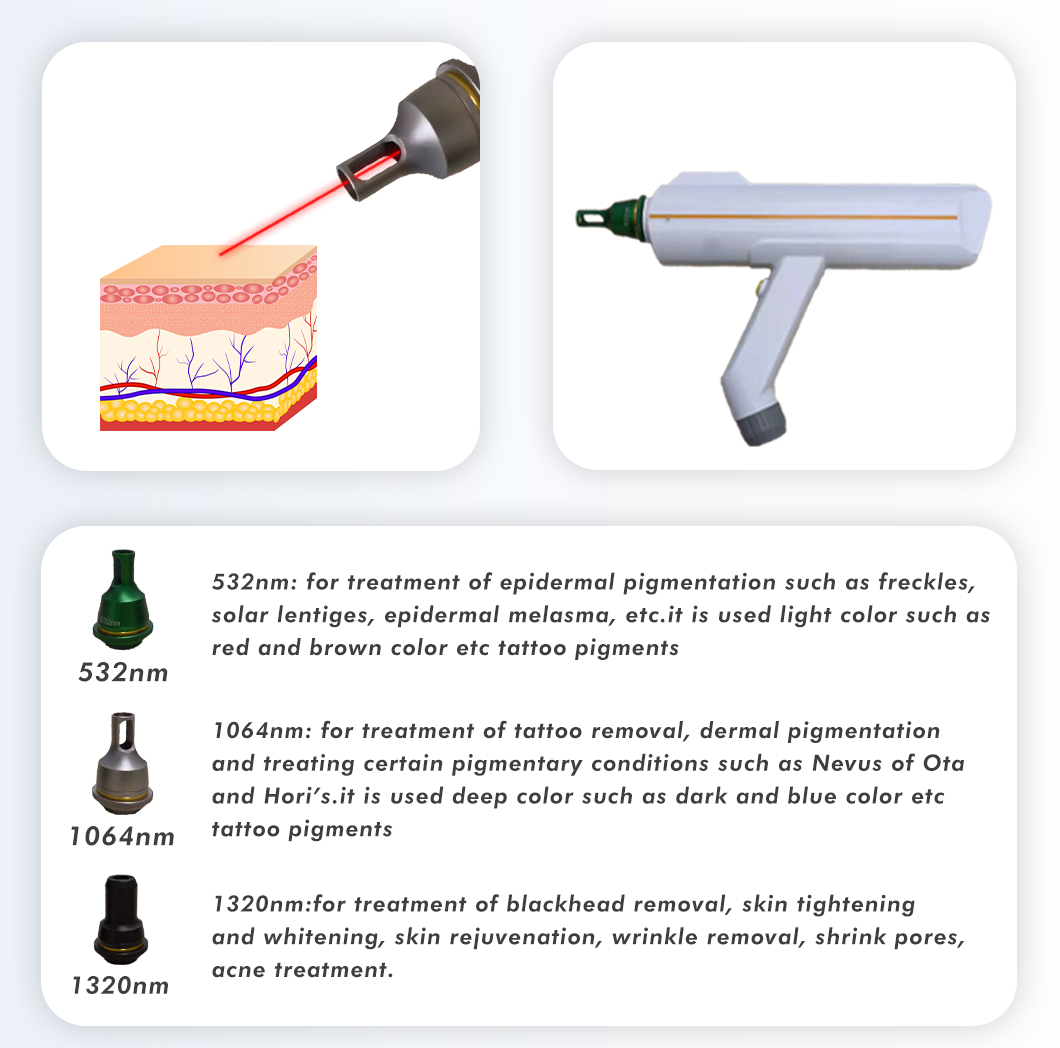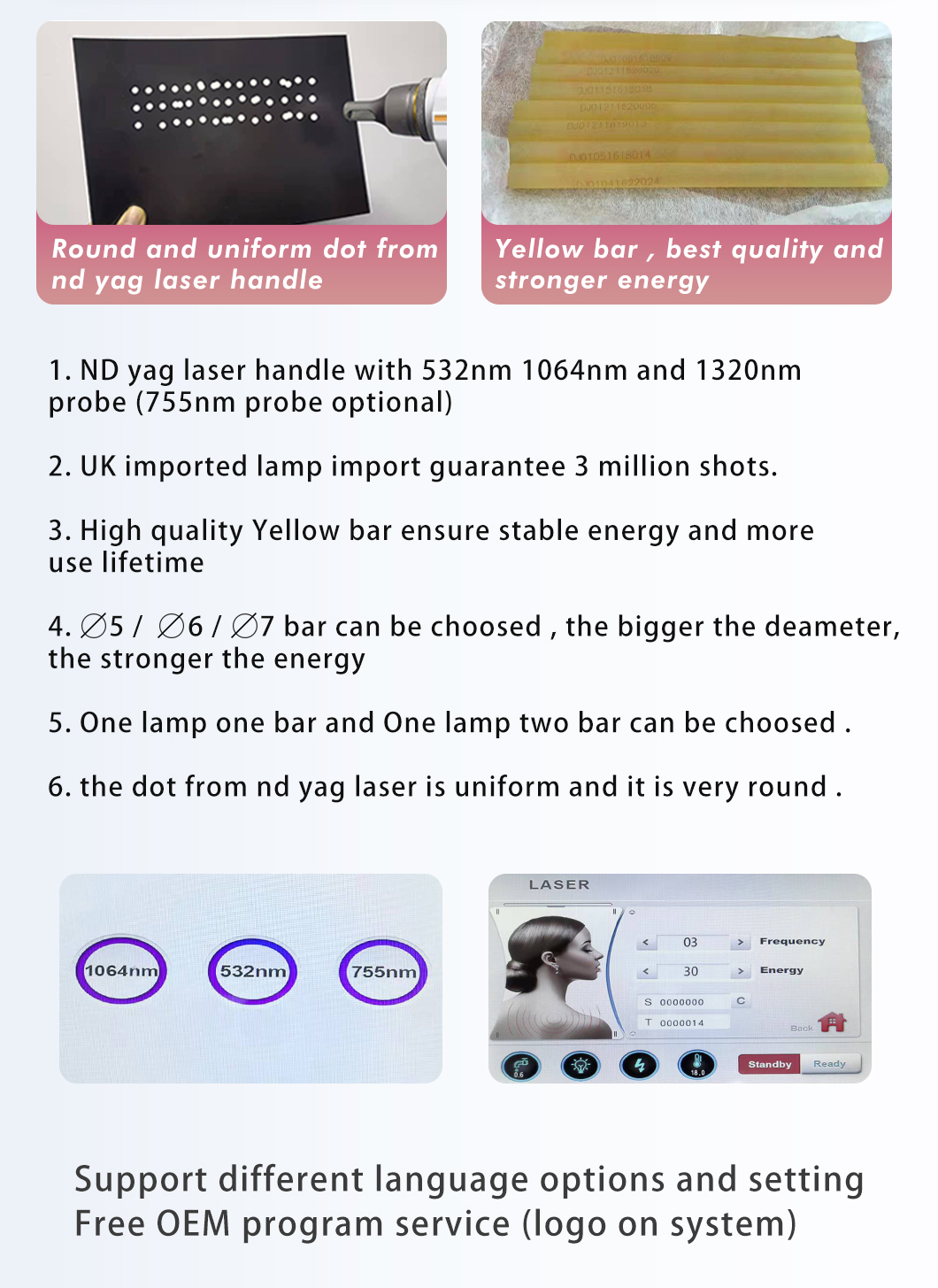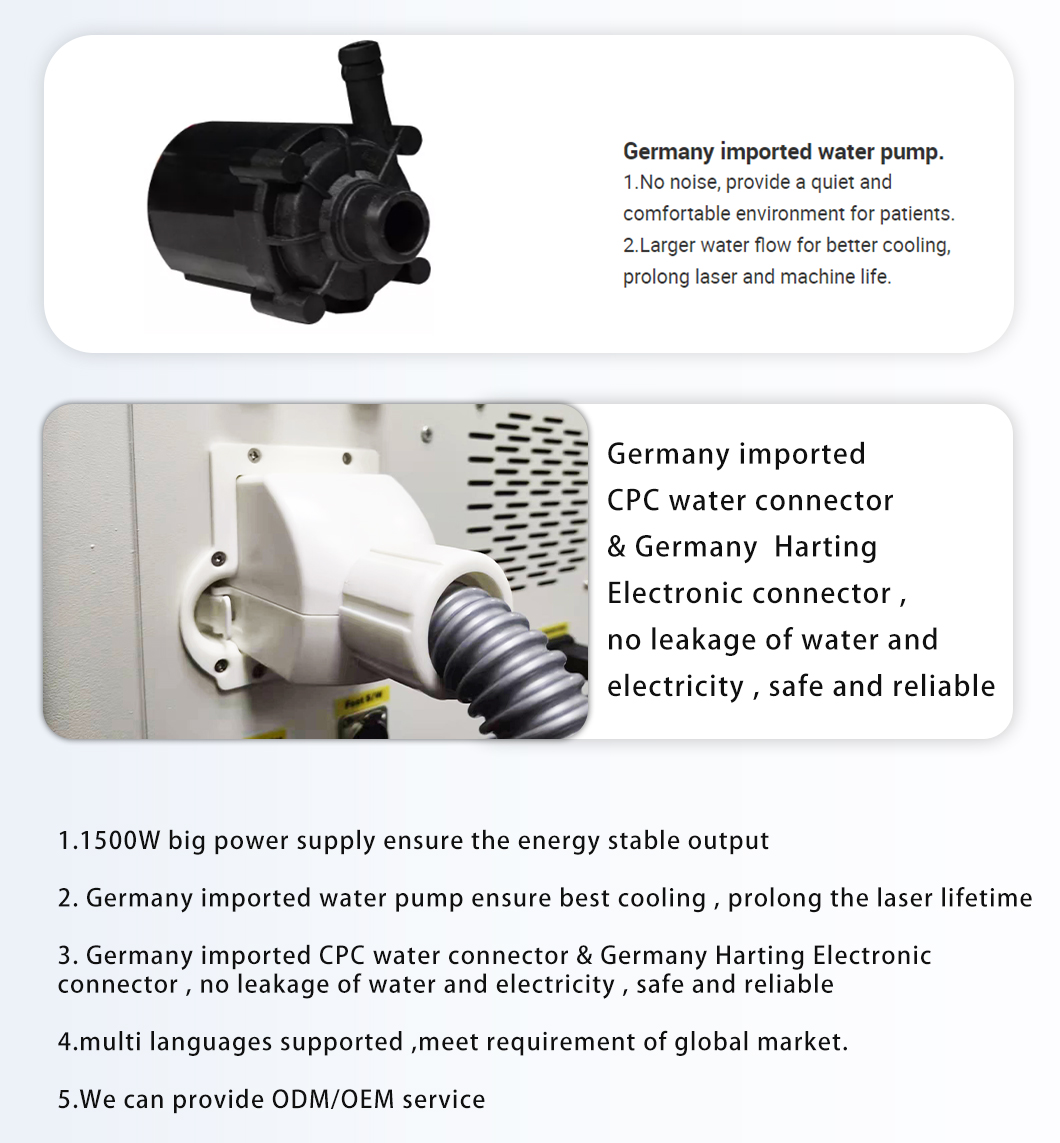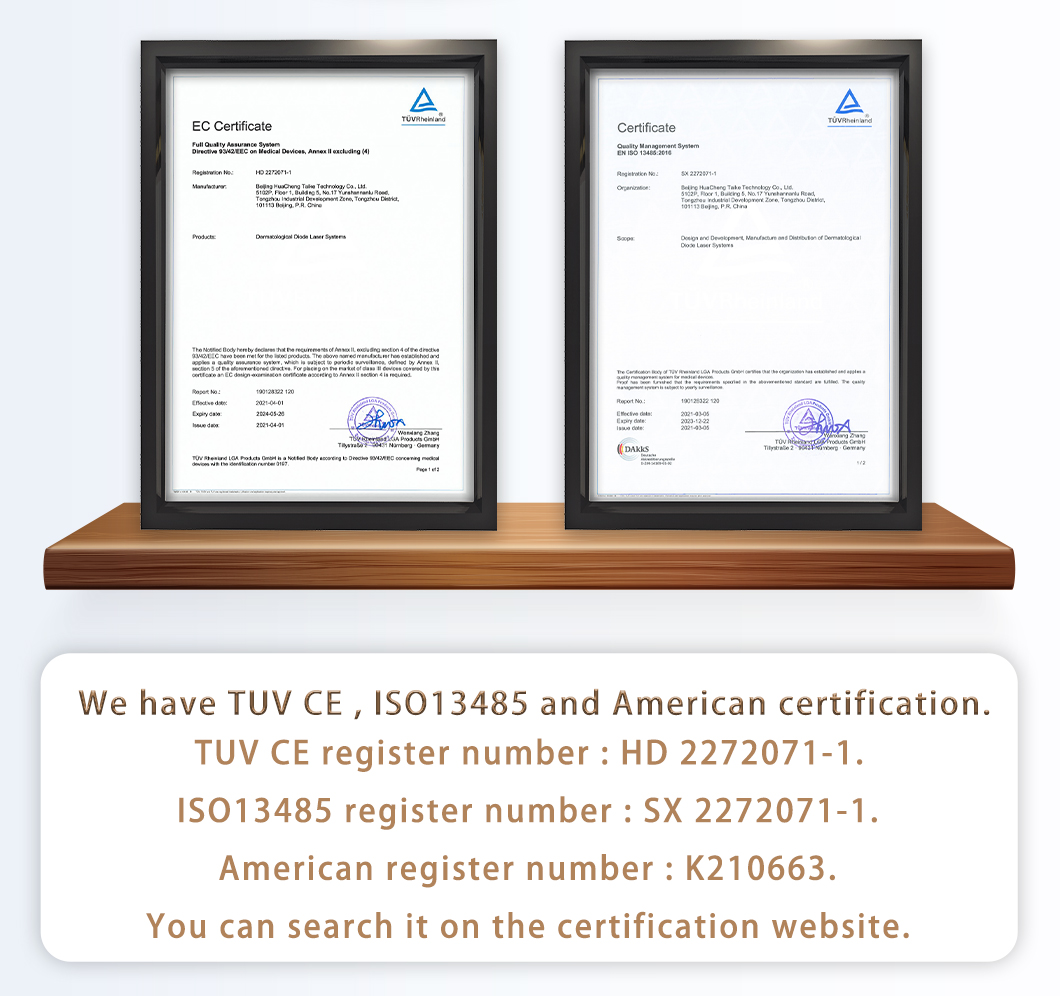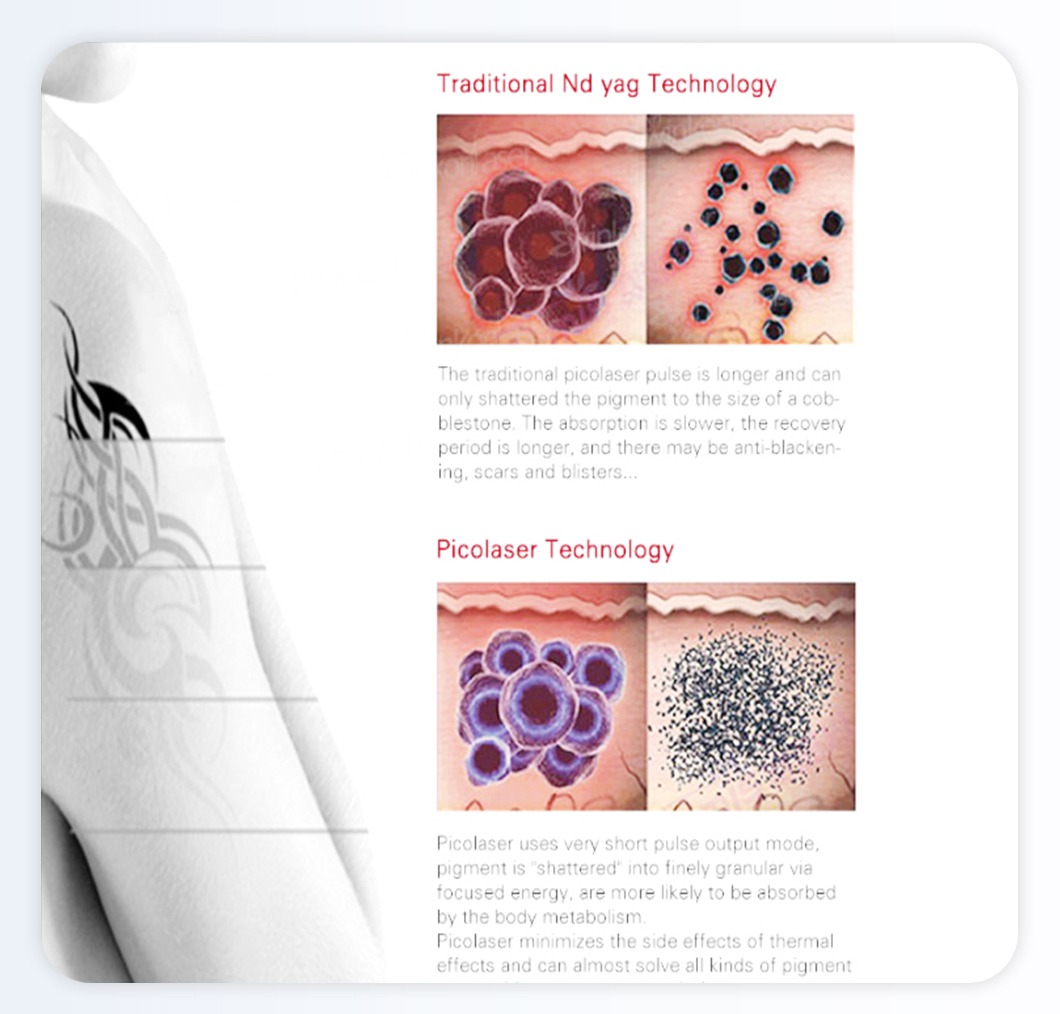 1.1064nm wavelength: get rid of freckles and yellow brown spot, eyebrow tattoo, failed eye line tattoo, tattoo, Birthmark and Nevus of Ota, pigmentation and age spot, nevus in black and blue, scarlet red, deep coffee and etc. deep color. 2.532nm wavelength: get rid of freckles, eyebrow tattoo, failed eye line tattoo, tattoo , lips line, pigment, telangiectasia in shallow red, brown and pink and etc. light color. 3.1320nm Professional for skin rejuvenation and face deep cleaning , blackhead removal, skin tightening and whitening, skin rejuvenation.Utilizing the explosive effect of the Nd: YAG laser, the laser permeate the epidermis into the dermis which includes amount of pigment mass. Since the laser pulses in nanosecond but with super high energy, the shot pigment mass swell quickly and breaks into small pieces, which will be eliminated through metabolic system. The energy of Q-switched Nd:YAG laser can be absorbed by pigment of target tissue like tattoo, speckle, birthmark and so on. The pigment will be fragmented so small that they can be metabolized by the lymphatic system or egested out of the body. Thus the tattoo or other pigmentations will be removed without damage to normal tissue. The treatment is safe and convenient without downtime or side effects.